About me:
My name is Anne-Kristina Wij and I'm a practitioner and teacher of Reiki and LaHoChi.
Reiki came to my life in 1999 and LaHoChi in 2020.
Since 2001 I have taught Reiki classes and given Reiki treatments by appointment here in Bois-de-Villers in Belgium.
I'm a Belgian citizen, but originally from the Nordic countries and I live in Belgium since 1992. I'm married to a Flemish Belgian and we live in the Walloon, French speaking part of Belgium since 1995. We have a 19 yo daughter.
I'm fluent in the following languages: English, French, Danish, Finnish and I also speak some Dutch. I'm used to speaking these languages almost every day, all depending who I'm working with and where.
Usually the courses here in Bois-de-Villers are in French, but we also organise LaHoChi and Reiki courses in English. Just ask me for more information.
I love all animals, but especially dogs are very close to my heart. I have given many Reiki treatments to dogs ever since 1999. My own dog is a German Shephard and I go for long walks in the nature with her every morning. I also love meditation and hiking in the nature.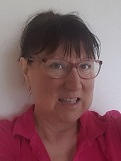 Mes sites:
www.lahochilumiere.be/ Mon site LaHoChi
www.reikispace.be/ Mon site Reiki et Karuna Reiki ®