Energy healing (Reiki or LaHoChi) by appointment 1 h:50 €
5170 Bois-de-Villers, Belgium.

Latest update: 23.12.2020:IN PERSON APPOINTMENTS ARE NOT POSSIBLE FOR THE MOMENT. We follow the Covid-19 situation on the news every day and we'll update this site with big letters as soon as the Belgian government allows these types of appointments again. We hope it to be at the latest on the 15.02.2021. Phone me for info if in doubt.

You can contact me on 0473-794899 from 9.30am to 6.30pm (from Monday to Sunday)..
Arrive 10-minutes before your appointment time. Private parking right in front of the door.
Cash only, we don't have a card terminal.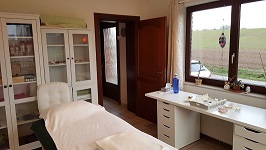 Individual LaHoChi course/workshop: 150 € :
Private course length (practitioner and master): 1-day
You receive a complete course manual and a certificat at the end of completed course.
Registration for course/workshop:
Phone me so that we together can find you a suitable course/workshop date and send me an e-mail with your contact details.
Your details are needed for the certificat and for invoicing.
annekristinawij@gmail.com
I'll e-mail you all the practical course/workshop information as soon as I have your contact details.

My sites:
www.lahochilumiere.be/ My LaHoChi site
www.reikispace.be/ My Reiki site

Security information during these times of risk for Covid-19:
Wear a mask and use handgel (at your disposition in the entrance)
Please, do cancel your appointment in case of slights symptoms and I'll do the same. The treatment room and the toilet are desinfected after each client.